In order to inherit and carry forward the Party's fine tradition, study and carry out the spirit of the Nineteenth National Congress of the Party, encourage Party members not to forget their original intention and remember their mission, and strive to become model Party members in the new era, the ZAOPIN ST Party Branch organizes Party members and activists to visit the site of the First Congress of the CPC and the Nanhu Revolution Memorial Hall in Jiaxing. To practice the spirit of learning revolution, to review the glorious course of the Party, and to explore the initial intention and mission of the Communists.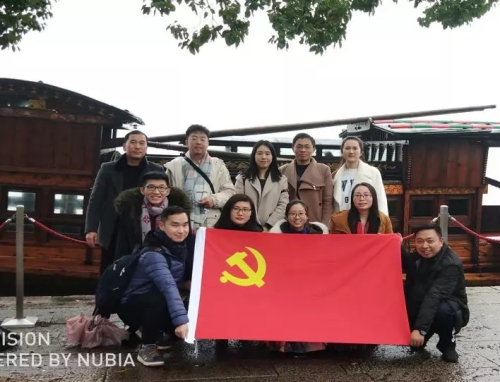 On the morning of December 22, members of the ZAOPIN ST Party branch arrived at Nanhu Lake Island by boat to look at the site of the First Congress of the Communist Party of China. In early August 1921, the First National Congress of the Communist Party of China (CPC) successfully closed on a cruise ship in Nanhu Lake, Jiaxing, and solemnly declared the birth of the CPC. As a result, the cruise ship won the name of Red Ship, which is forever recorded in the history of Chinese revolution. It witnessed the great events that opened up the world in Chinese history. Here, the first program and resolution of the Party were considered and adopted, and it became the symbol of the source of Chinese revolution.
Subsequently, all the members of the branch visited the Nanhu Revolutionary Memorial Hall. Party members stopped to look at the historical relics, documents, books and photographs on display, and the restored scenes of Nanhu Red Ship, Humen Smoke Sale and Jiaxing Railway Station as if they were in the scene. Looking back on the great achievements of the older generation of revolutionaries, we can understand the history with our hearts and truly understand the history of the revolutionary war and the unremitting construction struggle of the Communists for national liberation and national independence and for national rejuvenation and prosperity. The flourishing pictures and text introductions in New China have also strengthened our ideals and beliefs, strengthened our confidence in inheriting the glorious revolutionary tradition, and deepened our understanding of the "Red Ship Spirit" and the spirit of the Nineteenth National Congress of the Communist Party.