Oilfield Reduced Soil Consolidation Subgrade (Pavement) Engineering
In recent years, with the increasing drilling volume, a large number of oil-based mud, water-based mud, sulfonated mud and oil mud have been produced. Waste after environmental protection treatment, produced a large number of reduced soil, the direction of these soil has become a very headache for oil fields and local governments... Reduced soil through technical means for recycling, to make a roadbed that can lead to wellsite or is condensate road, which is the direction we are working towards.

1. Technical Indicators
(1) Compressive strength of saturated soil (7 days): 1.5-3.5 Mpa of composite condensate.
(2) Flexural tensile strength: composite condensate reaches 0.49-0.69 Mpa.
(3) Compressive resilience modulus: the composite condensate reaches 1300-1600 Mpa.
(4) Water stability: Composite condensate specimen saturated at room temperature for more than 100 days without dissolution.
2. Engineering application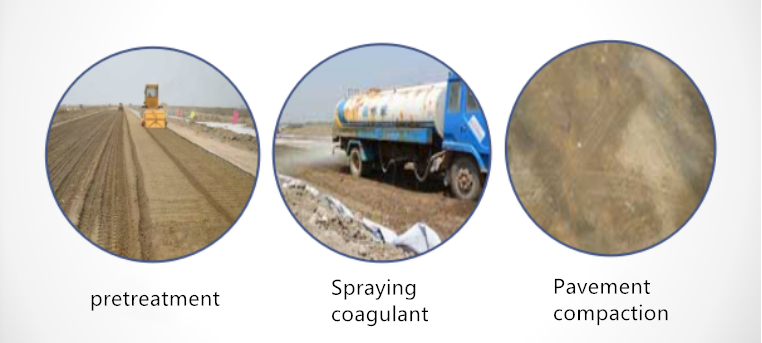 3.Economic performance
(1)The cost of composite condensate is lower than that of traditional roadbed materials.
(2) Compound condensate replacing traditional road building materials can save temporary land of material yard and greatly reduce engineering cost.
(3) Composite condensate has good water stability, which can reduce the height of roadbed and the cost of construction.