Ageing oil treatment
In recent years, due to the application of polymer in oil field, the production of sediment in production and the formation of sulfate reducing bacteria, it is difficult to treat oil and water in oil field, thus forming aging oil.
1. ZAOPINST-LHY100 Integrated Solution for Aging Oil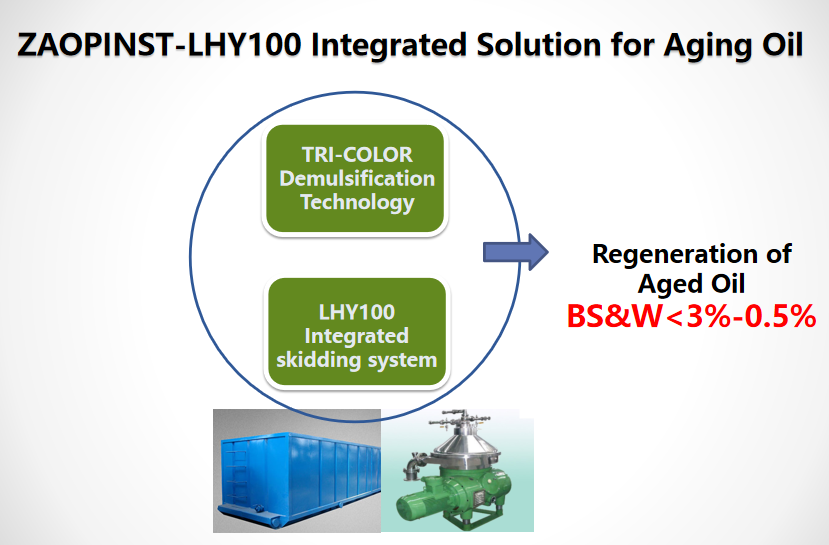 2.Technological process

3.Overview of process
| | |
| --- | --- |
| Process name | Technology |
| Feed | Pumping directly through the oil pump to stirring and heating pry, the pump flow rate is 20 cubic meters per hour. |
| Warming and demulsifier agitation | After the aging oil enters the mixing pry, it is heated and stirred, and the demulsifier is added through the automatic dosing machine. The dosing concentration is 100-200 ppm, the temperature is 60-70 degrees, and the mixing time is 40-60 minutes. |
| Discharge | After mixing and heating, the disc centrifuge is directly pumped through the oil pump. |
| Centrifugation and discharge | The disc centrifuge separates oil, water and residue three-phase, and the separated three-phase enters each storage system separately. |
4.Technical highlights
(1) Feed pump, using pneumatic diaphragm pump, has a very reliable safety, use is not affected by the media.
(2) Dual stainless steel filter, built-in stainless steel filter, material through the dual filter and then into the butterfly separator, can make the impurity particles do not enter the centrifuge, thus protecting the normal operation of the centrifuge.
(3) Effective demulsifier can destroy the structure of the emulsified liquid, so as to separate the phases in the emulsified liquid.